BOHATEROWIE
Summer - królik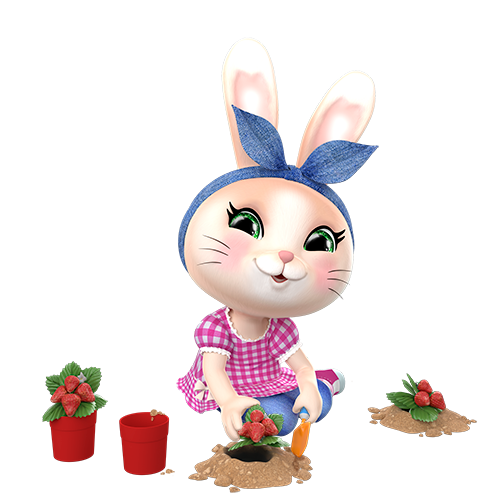 Summer jest bardzo entuzjastyczną, ciekawską i pełną podziwu dla świata króliczką. Pochodzi z dużego miasta, do wszystkiego podchodzi twórczo i nieszablonowo. Nigdy nie rozstaje się ze swoim plecakiem, z którego wyciąga wszystkie rzeczy z miasta. Summer jest zawsze gotowa rozwiązać problem, nadając "miejski akcent" sprawom i działaniom na farmie. Summer jest tak podekscytowana pomaganiem wszystkim w potrzebie (zwierzętom, kwiatom, roślinom…), że skacze z miejsca na miejsce. Ze względu na jej "miejskie podejście" Summer nie jest przyzwyczajona do czekania. Chciałaby, żeby coś wydarzyło się od razu. Jej najlepszą przyjaciółką jest Betty, a Summer uwielbia dbać o nią i jej piękną fryzurę.

Akcesoria: Plecak (z którego wyciąga wszystkie potrzebne przedmioty), apteczka.
Todd - szop
Todd jest bardzo uważnym i odpowiedzialnym rolnikiem. Chce mieć wszystko pod kontrolą i zawsze jest gotowy z "planem B" na rozwiązanie wszelkich trudności. Todd ma niezwykły talent do naprawiania wszystkiego, co nie działa: szybkie sprawdzenie w jego skrzynce z narzędziami, a na pewno znajdzie odpowiednie narzędzie dla właściwego problemu! Jest też wyjątkowo kreatywny, co pozwala mu wymyślać zaskakujące rozwiązania: po prostu poczekaj, aż wejdzie do swojego warsztatu w Stodole, a wymyśli najwspanialsze wynalazki w historii! Dynamiczny i niestrudzony Todd jest zawsze bardzo skupiony na tym, co robi. Najlepszym przyjacielem Todda jest Miś Pico, który jest zawsze gotowy do zaoferowania swojej super siły, gdy zajdzie taka potrzeba.

Akcesoria: Skrzynka narzędziowa (z narzędziami do naprawiania, budowania i tworzenia).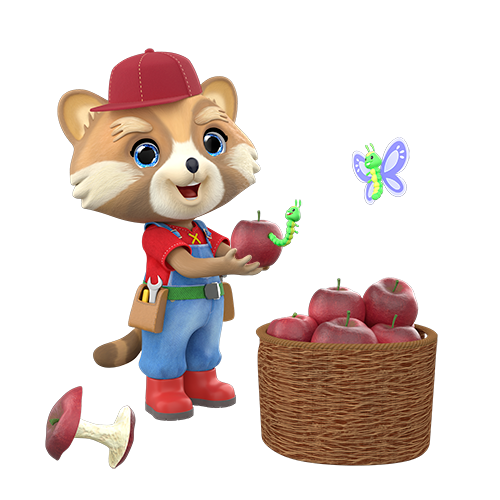 Betty - owca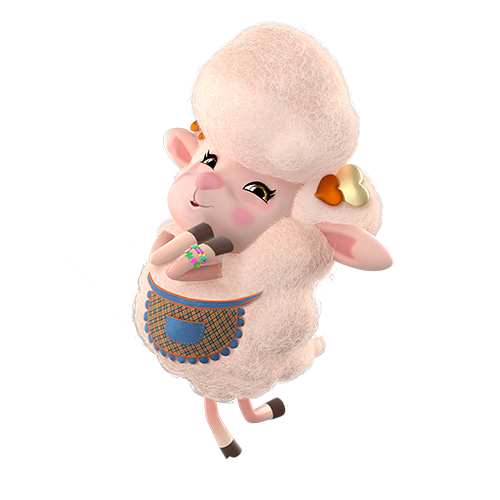 Betty jest odpowiedzialna za stoisko z warzywami na targowisku. Jest bardzo nieśmiała, zawsze cofa się o krok, zwłaszcza gdy grupa musi zmierzyć się z problemem i woli, aby Summer lub Todd wymyślili rozwiązanie. Betty to słodka i lojalna przyjaciółka, która uwielbia dbać o swoją piękną fryzurę. Betty postrzega Summer jako swoją osobistą bohaterkę, kogoś do naśladowania, zwłaszcza, że pochodzi z dużego miasta, miejsca, które uwielbia tak bardzo, że pewnego dnia chce je odwiedzić.
Pico - niedźwiedź
Pico zostaje powierzone ważne zadanie: musi kontrolować Ogród Warzywny i wszystkie jego uprawy. Jest odpowiednim facetem do tego zadania, ponieważ jest pasjonatem i dba o warzywa i rośliny, ale także bardzo silny! Jest pierwszym, który próbuje pomóc Summer i Toddowi, a dzięki swojej super sile z łatwością wykonuje najcięższe prace, z wyjątkiem sytuacji, gdy przesadza i powoduje zabawne problemy. Pico to prawa ręka Todda, zawsze niezawodna, ale czasami trochę niezdarna.