Squishmallows to marka, która słynie z uroczych, miękkich i unikatowych pluszaków. Każdy z nich ma niepowtarzalną osobowość, imię oraz design.
W ramach promocji marki Squishmallows, Orbico Toys zaangażowało setki retailerów z całej Polski, które stworzyły strefy przytulania w swoich sklepach, stając się oficjalnymi partnerami akcji. Do ogólnopolskiego przytulania dołączyły również fundacje, firmy, magazyny oraz portale. Każde miejsce zaangażowane w akcję można odnaleźć na mapce, która znajduje się na stronie www.przytulanietowspieranie.pl.
Dlaczego #przytulanietowspieranie?
Squishmallows to marka, która kocha się przytulać!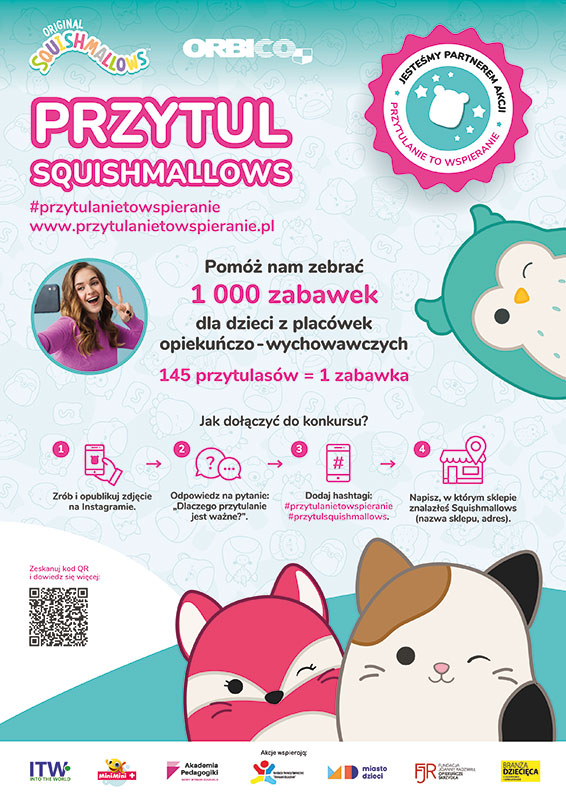 Przytulanie jest jednym z najprostszych i zarazem najskuteczniejszych sposobów na dzielenie się pozytywnymi emocjami. Badania wykazują, że przytulanie wywołuje u nas uczucie zadowolenia, szczęścia oraz zwiększa poziom oksytocyny w organizmie, czyli hormonu miłości i zaufania. W trudnych czasach, jakie obecnie przeżywamy, takie doświadczenia są niezwykle cenne i potrzebne.
1 000 zabawek za przytulasy!
Każdy z nas pamięta ulubioną zabawkę z dzieciństwa, z którą wiąże się masa wspomnień. Orbico Toys jako ich dystrybutor, chce przekazać dzieciom coś, co umili im Dzień Dziecka, jednocześnie angażując całą Polskę w przytulanie i pomaganie. Listę miejsc, do których trafią zabawki możecie znaleźć na oficjalnej stronie akcji.
Każdy może dołączyć i przytulić Squishmallows!
145 przytulasów = 1 zabawka
Wystarczy odszukać na mapce najbliższy sklep, który jest oficjalnym partnerem akcji, odwiedzić wybrane miejsce, zrobić zdjęcie ze Squishmallows oraz opublikować je na swoich social media. Każda zamieszczona na publicznym profilu fotografia to jeden przytulas.
Co w przypadku, gdy w Waszej okolicy nie ma strefy przytulania?
Pluszaka można zamówić w sklepach online, następnie wykonać i opublikować zdjęcie w domowym zaciszu.
Należy odpowiednio otagować zdjęcie, aby organizatorzy mogli odszukać publikację i dodać przytulasy do oficjalnego licznika – #przytulanietowspieranie.
Wszystkie szczegóły o akcji #PrzytulanieToWspieranie znajdziecie na www.przytulanietowspieranie.pl.
Kolorowanki