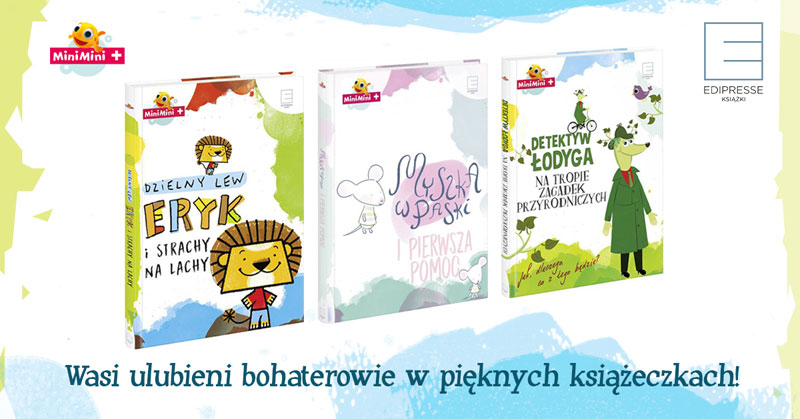 Małe wypadki, niespodziewane urazy oraz choroby są częścią naszego życia. Dorośli doskonale o tym wiedzą, lecz trzeba przygotować na nie również dzieci. Najłatwiej to zrobić poprzez mądrze przygotowane materiały edukacyjne. Dzieci – podobnie jak dorośli – też mają swoje strachy i lęki. Dorosłym mogą one wydawać się śmieszne, ale maluchom potrafią odbierać radość dzieciństwa.
W takiej sytuacji rodzicowi z pomocą przyjdzie główny bohater książeczki edukacyjnej "Dzielny Lew Eryk i strachy na lachy". Jest to opowieść o lwie, który pokonał wszystkie swoje lęki, dzięki pomocy mamy i taty oraz ich sprytowi. Szereg historyjek opisuje "małe" strachy takie jak: mycie głowy, wizyta u lekarza, wyjście do przedszkola, ciemność, burzę, czy niespodziewaną wizytę pająka w mieszkaniu. Język każdej z mini-opowieści zamienia dziecięcy problem w przygodę, dzięki temu łatwo go pokonać, bo tak naprawdę nie jest tak straszny jak wydawało się na początku.
Książeczka pełna jest ciekawych dodatków. Dziecko znajdzie w niej miejsce na własny pamiętnik - świetne ćwiczenie, aby oswoić strachy; szkicownik, który maluchy mogą zapełnić własnymi ilustracjami; oraz zadania graficzno-logiczne. Dzieci bojące się burzy, mogą np. wspólnie z bohaterem książki liczyć błyskawice. Wszystkie ćwiczenia dają im możliwość zdobywania wiedzy, o tym jak funkcjonuje świat i jak sobie w nim radzić bez obaw. Książeczka przygotowana jest w pastelowych kolorach. Cześć obrazków pozostawiona jest biała, aby dziecko mogło je samodzielnie pokolorować.
W książeczce "Myszka w Paski i pierwsza pomoc" dzieci znajdą odpowiedzi na szereg pytań dotyczących problemów ze zdrowiem. Każdy z nich opisany jest poprzez życiową historyjkę, która przydarzyła się któremuś z bohaterów książki. Omawiane problemy to m. in.: krwotok z nosa po uderzeniu piłką, zakrztuszenie, drzazga w palcu, guz czy ból zęba, czyli wszystko co może przydarzyć się dziecku i z czym w pierwszym odruchu powinno umieć sobie poradzić samemu zanim otrzyma fachową pomoc. Opowiastkom towarzyszy podsumowanie tego, co dokładnie dzieci mają robić w razie danego problemu.
Książka pełna jest zadań, które pozwalają utrwalić dzieciom właściwy schemat postępowania. Mają one np. wskazać przedmioty, które mogą się przydać do zatamowania krwotoku, lub którymi zabawa może skutkować wbitą drzazgą. Jeden z modułów zawiera spis wszystkich ważnych numerów telefonów, których dzieci mogą potrzebować, aby wezwać na pomoc specjalne służby. Podobnie jak dwie pozostałe publikacje "Myszka w Paski i pierwsza pomoc" ma przydany dla dzieci szkicownik.
Ekologia to nie tylko problem dorosłych. Aby nasze otocznie funkcjonowało w czystości, również dzieci muszą się o nie troszczyć od najmłodszych lat. Jak jednak je nauczyć, by dbały o przyrodę, robiły to z ochotą i bez żadnego przymusu? Naprzeciw tej edukacyjnej potrzebie wychodzi Eugeniusz Łodyga, zapalony ekolog i detektyw w jednym, uczący zaprzyjaźnioną ze sobą grupę dzieci – rodzeństwo: Zosię, Tadzika i Amelkę – jak wyjść zawsze z klasą z "ekologicznych" tarapatów.
W książce "Detektyw Łodyga. Na tropie zagadek przyrodniczych" znajdziemy tematy związane z ochroną środowiska jakie mogą napotkać dzieci, zilustrowane historyjkami edukacyjnym m.in. jak oszczędzać w mądry sposób wodę, wprowadzić skuteczny recykling śmieci do naszej codzienności, co zrobić z niepotrzebnym papierem, aby dać mu drugie życie, albo troszczyć się o żyjące w ziemi stworzenia, które dają witalność i piękno naszym roślinom. Ważne też jest odpowiednie dbanie o jakość powietrza, by służyło ludziom zamiast ich truć.
Poprzez historyjki dzieci poznają przyczynę problemu i dostają rozwiązanie, jak postępować aby zapobiegać mu w przyszłości, np. na zakupy warto zabierać materiałową torbę. Dzieci dowiadują się, że nieekologiczne postępowanie szkodzi Ziemi. W książce znalazły się również "przepisy" na nietypowe wykorzystanie foliowych woreczków. Można z nich zrobić np. myszkę-zabawkę, co dodatkowo pozwala rozwijać kreatywność i umiejętności plastyczne. Detektyw Łodyga uczy też odpowiedzialności za zwierzęta. Na mądrych przykładach przekonuje, że to nie maskotki, a żywe stworzenia. Książka jest pięknie zilustrowana. Dzieci dostają też do dyspozycji obszerny szkicownik. Książeczka różni się tym od poprzedniego wydania, że uzupełniona jest o materiały do pracy z dzieckiem.