Rewolucja żywieniowo-kulinarna w Polsce zaczyna się od działań edukacyjnych w szkołach
Od lat zmagamy się w Polsce z rosnącą nadwagą i otyłością wśród dzieci i młodzieży- według badań Instytutu Żywności i Żywienia to już co najmniej 22% dzieci ma nadwagę lub otyłość, ale w niektórych regionach, np. na Mazowszu, liczba ta sięga 32%. Liczba przedwczesnych zgonów związanych z chorobami dietozależnymi, takimi jak cukrzyca lub nadciśnienie jest zatrważająca- to już 145 000 osób rocznie.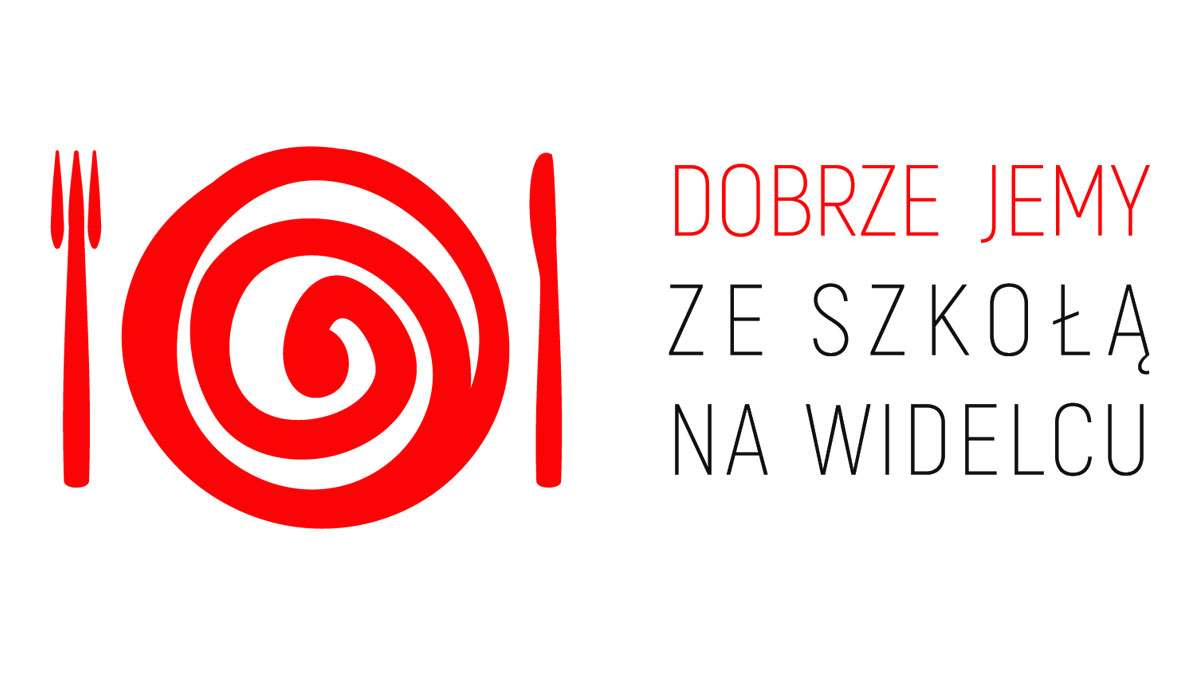 Dlaczego mino trendu na zdrowe odżywianie, rosnącej świadomości konsumenckiej i coraz większej oglądalności programów kulinarnych problem nie znika? Czy gotowanie jest fanaberią czy może podstawową umiejętnością pozwalającą nam na długie, zdrowe życie?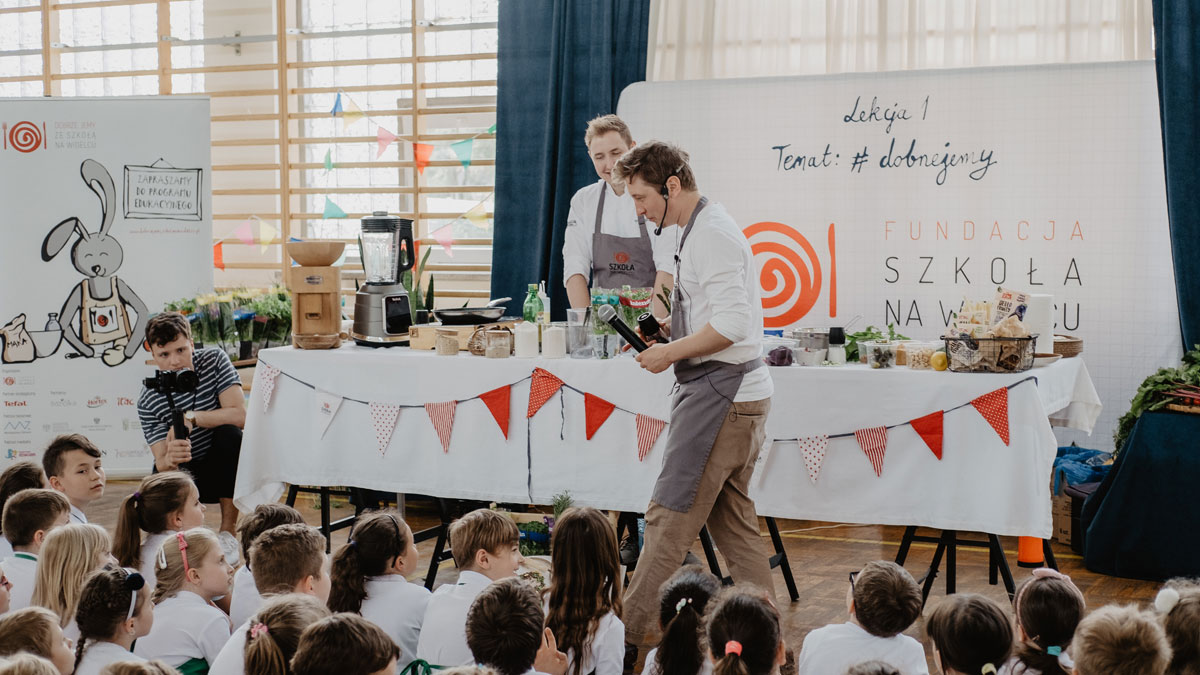 – Nadwaga i otyłość oraz brak podstawowej wiedzy dotyczącej prawidłowego stylu życia to niestety rzeczywistość. Przykładem są między innymi dziecięce śniadaniówki przepełnione wysokoenergetycznymi przekąskami o niskiej wartości odżywczej. Edukacja żywieniowo-kulinarna to jeden z najlepszych kierunków działań, który może mieć realny wpływ na zmianę nawyków żywieniowych młodych pokoleń. Ważne, aby działania edukacyjne były przyjazne dzieciom, zawierały wiele aspektów praktycznych, zachęcały nauczycieli do działań praktycznych, prowadzenia warsztatów kulinarnych czy zakładania ogródków szkolnych wraz z uczniami – tłumaczy dietetyk Katarzyna Pieczyńska z Fundacji Szkoła na Widelcu.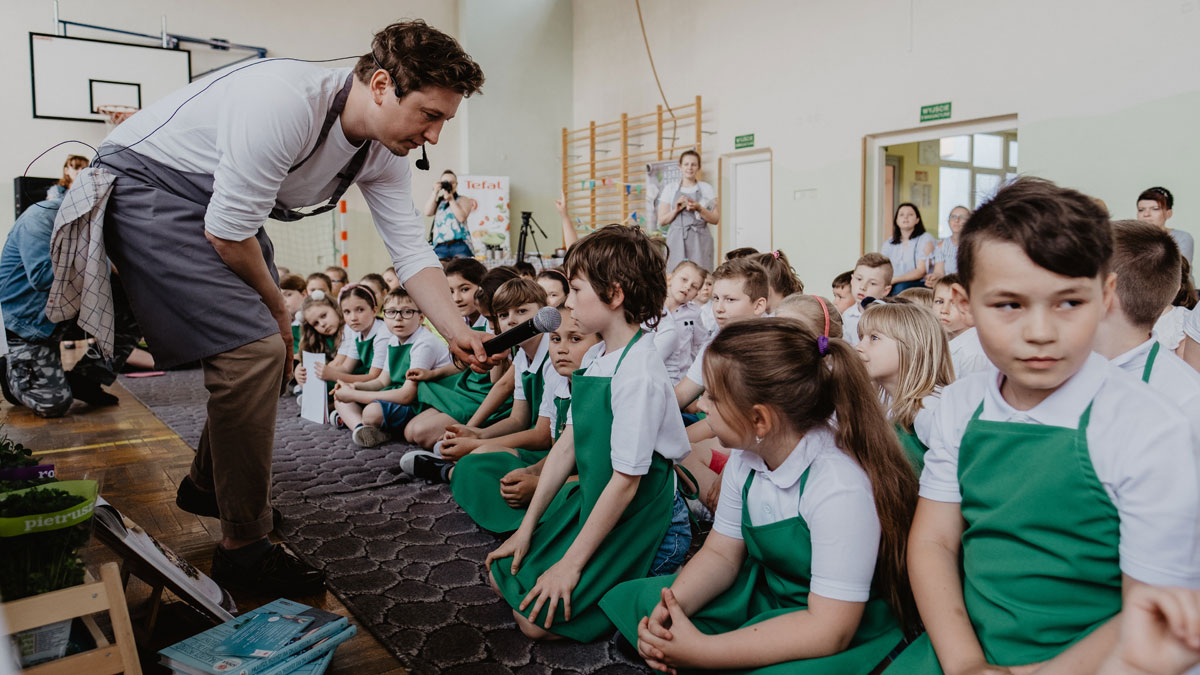 Równie istotne jest zaangażowanie rodziców. Codzienne spożywanie zbilansowanych i jednocześnie smacznych posiłków, jedzenie w przyjaznej atmosferze i o regularnych porach kształtuje w dzieciach prawidłowe zwyczaje żywieniowe na całe życie. Badania potwierdzają również, że wspólne gotowanie może korzystnie wpływać na poprawę czynników psychospołecznych, w tym preferencji, nawyków i zachowań żywieniowych. Gotowanie razem w szkole i w domu daje dużo radości, ale też wpływać może pozytywnie na zmianę nawyków żywieniowych i dlatego do odkrywania świata jedzenia poprzez praktykę zachęca Program "Dobrze jemy ze Szkołą na Widelcu".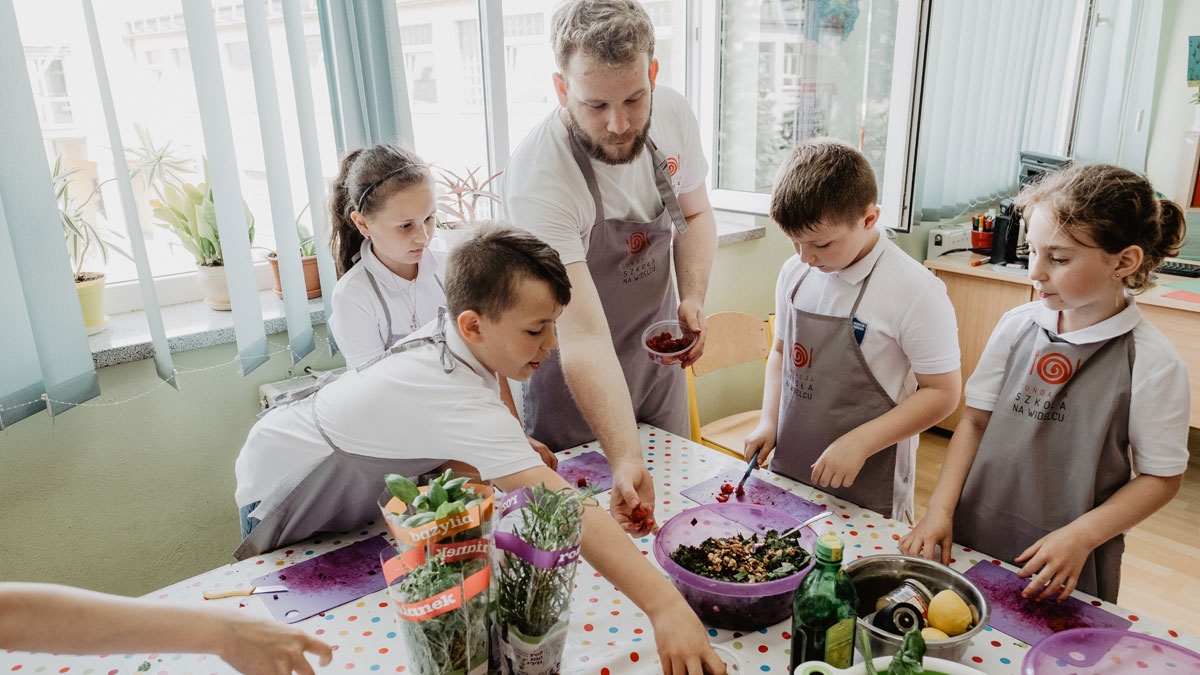 -Żyjemy w przełomowych czasach. W obliczu zmian klimatycznych, kryzysu środowiskowego, epidemii otyłości i nadwagi w Polsce bardziej potrzeba rewolucji niż ewolucji żywieniowej. Może nawet bardziej niż kiedykolwiek wcześniej. Mamy na to twarde badania – kondycja zdrowotna Polaków, presja środowiskowa przemysłowego rolnictwa, transport żywności na wielkie odległości, zmiany klimatyczne, marnowanie żywności – to tylko kilka przykładów. Wierzę jednak, że fundamentem rozwoju i zmian w społeczeństwie jest dobra edukacja od najmłodszych lat. Żywność i żywienie stanowią fundament naszego zdrowia i bezpieczeństwa. Jestem przekonany, że dzięki realizacji zajęć z zakresu edukacji żywieniowo-kulinarnej w polskich szkołach możemy mieć realny wpływ na zdrowie i bezpieczeństwo obecnych i przyszłych pokoleń. I jako Fundacja robimy wszystko co w naszej mocy, aby ta zmiana zaczęła się już dziś- mówi pomysłodawca i założyciel Fundacji Szkoła na Widelcu- Grzegorz Łapanowski.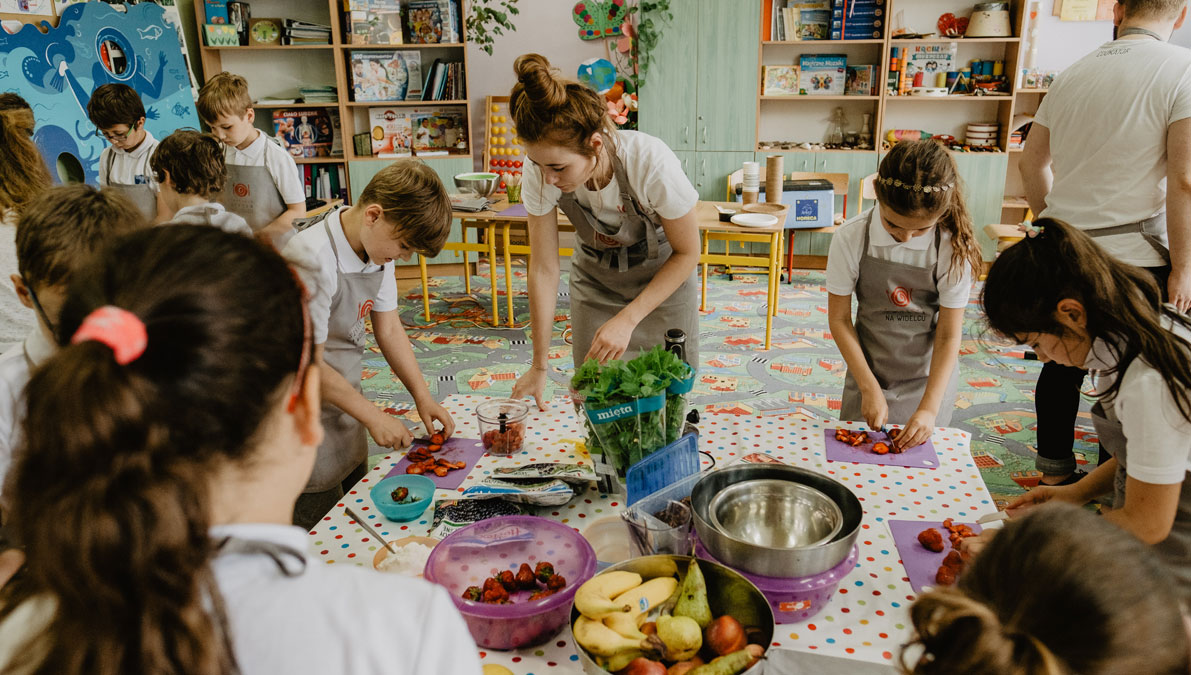 Jak wygląda program edukacji żywieniowo-kulinarnej?
"Dobrze Jemy ze Szkołą na Widelcu" jest programem skierowanym do uczniów klas "0" oraz I-III szkół podstawowych. To projekt długofalowy, którego trzecia edycja rozpocznie się już we wrześniu. Celem organizatora, czyli Fundacji Szkoła na Widelcu, jest przede wszystkim edukacja w zakresie prawidłowego i świadomego żywienia oraz zachęcenie najmłodszych do gotowania. Program został przygotowany we współpracy z dietetykami, pedagogami i objęty patronatem Ministerstwa Zdrowia, Ministerstwa Edukacji Narodowej, Instytutu Żywności i Żywienia, Polskiego Stowarzyszenia Dietetyków oraz Rzecznika Praw Dziecka.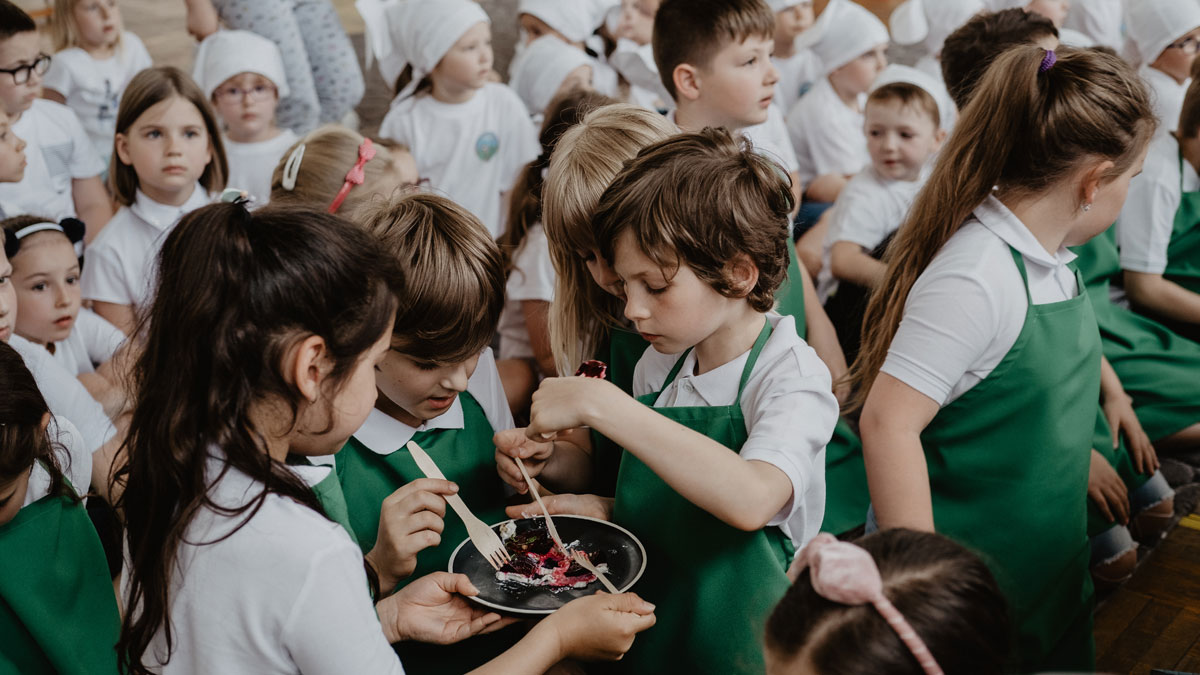 Szkoły, które zgłaszają się do programu otrzymują bezpłatne materiały edukacyjne dla nauczycieli i uczniów: scenariusze zajęć, płyty z filmami edukacyjnymi, plakaty, naklejki, specjalnie przygotowane karty samodzielnej pracy. W II edycji program "Dobrze jemy ze Szkołą na Widelcu" objął działaniami ponad 208 000 uczniów, którzy wraz ze swoimi nauczycielami realizowali lekcje o prawidłowym i świadomym żywieniu w ponad 1500 szkołach w całej Polsce. Przygotowane scenariusze zajęć poruszały takie tematy jak: zasady prawidłowego żywienia, jak komponować posiłki, pochodzenie jedzenia, sezonowość, smaki, kulinarne podróże, prawidłowe zachowanie przy stole, wspólne gotowanie i spożywanie posiłków. Zachęcenie najmłodszych do przygotowywania samemu wartościowych posiłków może sprawić, że przeniosą one te nawyki i cenne lekcje do domu. Dzieci otrzymały też ciekawe materiały takie jak przepisy, licznik warzyw i owoców, umiejętności małego kucharza, które zabrały do domu, aby kontynuować swoją przygodę w rodzinnej kuchni.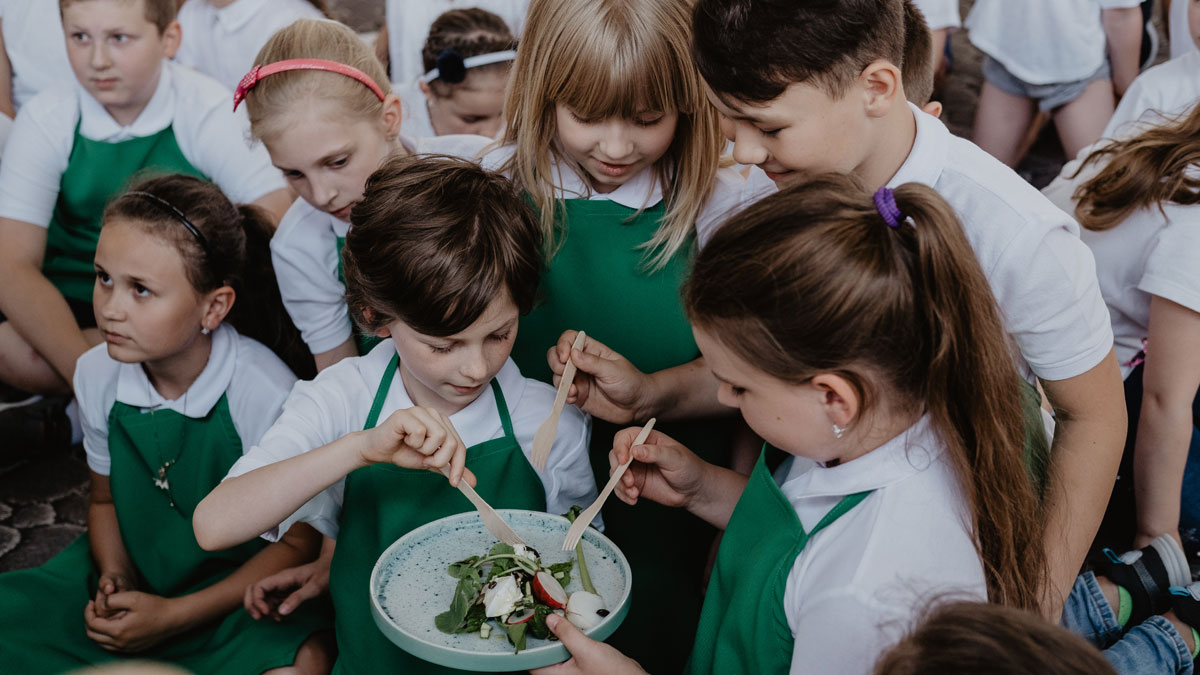 Zgłoś swoją szkołę do programu!
Ruszyła już rekrutacja do trzeciej edycji programu, która trwać będzie w roku szkolnym 2019/2020. Szczegóły i formularz rekrutacyjny dostępne są na stronie www.dobrzejemy.szkolanawidelcu.pl. Liczba miejsc ograniczona, a o możliwości otrzymania pakietów edukacyjnych decyduje kolejność zgłoszeń.